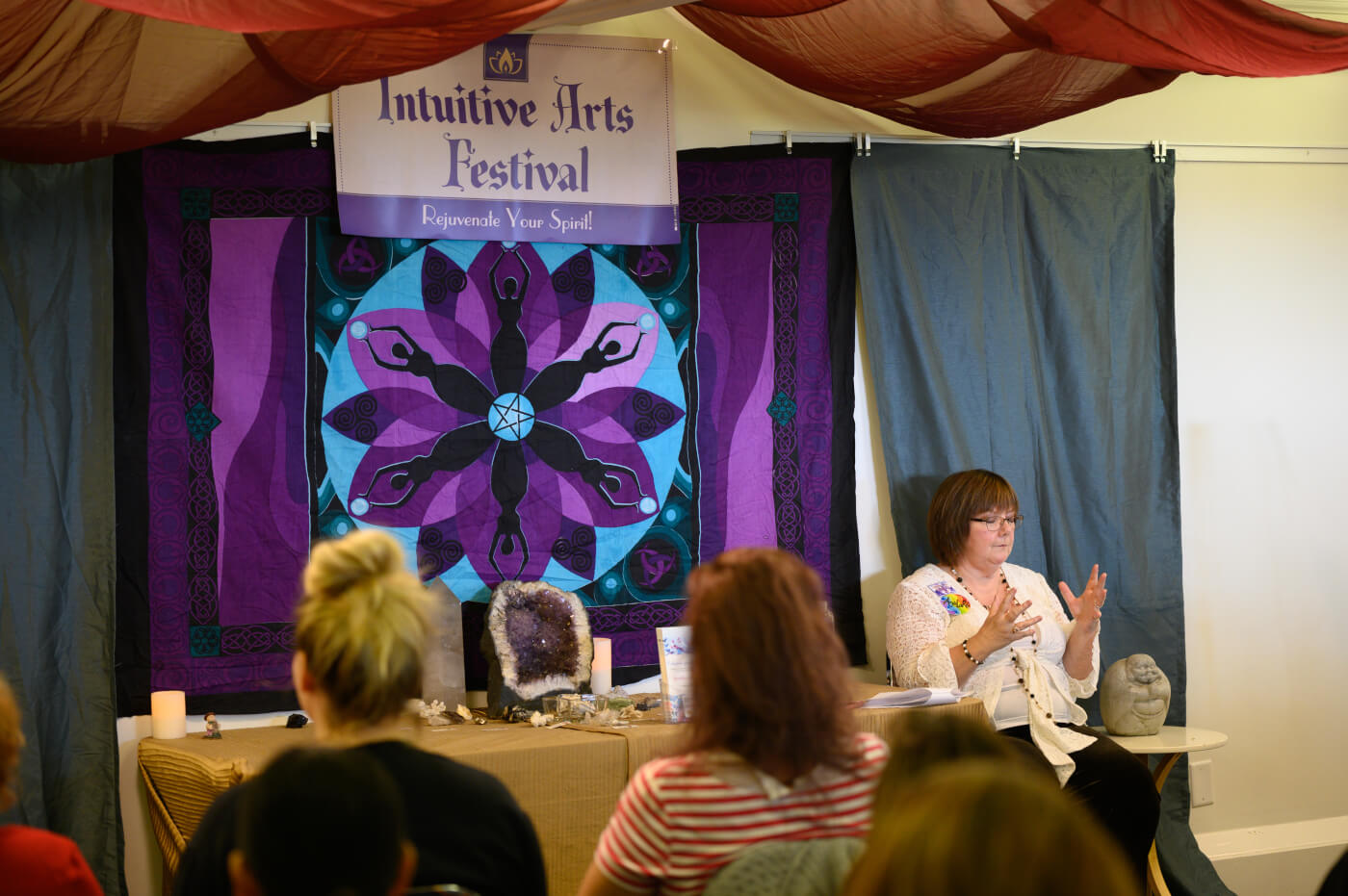 Workshops
Learn, explore, and grow!
Back to back workshops, presentations and talks will be offered all weekend long by our knowledgeable exhibitors!
Explore intuition, experience a sound bath, talk to your spirit guides, learn to read Tarot cards and dive into your past lives – these are just a few of many topics that will be covered relating to metaphysics, holistic healing and psychic development.
Each workshop is 50 minutes long. All of the workshops on Saturday & Sunday are included in your weekend pass. No need to sign up, just show up 5 minutes before as the room will fill up. No late entries will be allowed so arrive on time.
Saturday Schedule
11:00 am
Mechanics Of Universal Life Force Energy
Derek Pennett, The Cosmic Messenger
https://linktr.ee/thecosmicmessenger
Curious to know more about what Universal Life Force Energy is & its stellar healing properties? Derek Pennett 'Lightbody Technician – Reiki Master Teacher' will guide you through the quantum mechanics of Universal Life Force Energy, what it is made of, how it assembles the galactic pieces of our subtle bodies & how it functions in the realms of full spectrum healing. This workshop is perfect for curious Earthlings who are new to this subject & energy practitioners who want to dive deeper into their practice while learning some new info/skills.
In addition we will also be focusing on the role Universal Life Force Energy plays in day to day living whether we are conscious of it or not. Derek will provide many easy to use tools for increasing the Universal Life Force Energy within us (including field coupling/charging hands/crystals/Reiki Attunements/breathwork) & simple ways we can focus our divine attention on to it, so we can use this unlimited healing tool for bio-regenesis. Hand-outs will be provided. Come get galactic with Derek & unlock your multiverse!
12:00 pm
Unlock Your Intuitive Creativity
Kelly-May Glover
https://www.inneralignmentinnerpeace.com
Have you ever felt that your creativity was stifled by limiting beliefs? Do you yearn to reconnect with the artistry and creative spark that flowed freely in your childhood?  During this workshop, we will embark on a journey of self-discovery and creative liberation. Through guided meditation, participants will be provided with a safe and nurturing environment to release the limiting beliefs that may have hindered their artistic expression.
The workshop's second part invites you to embrace your creative and intuitive side by engaging in drawing, allowing you to physically express your emotions, thoughts, and anything else that needs to be released. Crayons, paper, and a supportive environment will be provided, ensuring you have all the tools necessary to explore your creativity.  The intention of this workshop is to open up new avenues of self-expression, enabling you to reconnect with your innate artistic abilities and rekindle the joy of creative exploration.
Kelly-May is a gifted intuit, healer and medium. She is a devoted mother and wife, who 9 years ago began her journey of healing. Along the way she rediscovered her creativity in the form of painting, dancing and play. Her ability to tap into the energy and information around her, enables her to assist those she works with on a deep and personal level. She walks the talk, believing that healing comes from doing the work and releasing the self limiting beliefs that hold us back. Like others, she is sharing her gifts with the world, scary as it is at times, with the belief that we are all meant to be happy, joyful and fulfilled, in all areas of our life.
Kelly-May works with an array of different modalities including Blueprint Healing Numerology, Access Consciousness Bars, Guided Meditation, Energy Healing and embraces Painting and Dancing into her workshops."
1:00 pm
Cartomancy: Divination with Playing Cards
Cassidy the Cardslinger
https://www.cassidythecardslinger.com
In this session, we will discuss how to perform readings using one of the most accessible divination tools around, a standard deck of 52 playing cards. During this instructional workshop, you will be introduced to the snappy method Cassidy uses in her personal and professional cartomacy readings. See real-world examples and learn practical information you can use to perform your own playing card readings. 
We will discuss each of the individual suits, how to pose questions, the importance of context in readings, comparisons to other card systems, myths of cartomancy, and practical tips to get started reading this pack of cards for yourself. Step into the fortune teller's tent and see what the cards have in store for you.
Cassidy is a certified tarot professional and card reader extraordinaire. She has studied with renowned international teachers of tarot, Lenormand, and playing cards to expand her skillset and deepen her craft. Through personal and professional experience with the cards, Cassidy has developed a unique reading style that is pragmatic, analytical, empowering, and deeply insightful that reflects her training in both the physical and metaphysical sciences.
Over the past few years, Cassidy's professional practice has included speaking and performing readings at divination conferences and festivals, hosting an international live psychic show, teaching tarot students, and reading for clients from around the world.  
2:00 pm
Soul Healing: Breaking the Chains of Past Life Influence
Carole Serene Borgens
https://www.carolesereneborgens.com
Join us on a profound exploration that acknowledges the existence of past lives and their potential impact on our present experiences. This workshop unveils the connection between unresolved past-life traumas and the mental, emotional, and physical challenges we may face in our current lives.
Drawing upon the wisdom shared in Carole's book, "Soul Healing: Breaking the Chains of Past Life Influence," we will explore personal stories that illuminate the intricate interplay between past and present lives.This Soul Healing process has addressed addictions, depression, anger, eating disorders, anxiety, and behavioral issues not identified as linked to present-day causes. These stories demonstrate how negative trigger responses can bridge the gap between past-life events and current challenges, and guide you on the journey to release these triggers and discover your path to wellness.
Empower yourself to embrace a life of wellness, authenticity, and personal growth. Open the door to profound healing and discover the freedom that comes from releasing past-life traumas.
3:00 pm
The Middle Pillar Exercise with Robert Anton Wilson's Ungrounding Meditation
David Zunker
https://www.facebook.com/TarotCardsAndAstrology
Join us on an inner spiritual journey inspired by the Qabalistic Hermetic tradition, often referred to as "Western Yoga." The Middle Pillar Exercise is a profound meditation that combines controlled breath, visualization, and the exploration of spiritual energies, leading to elevated consciousness and a direct personal experience of spiritual energy.
David will provide symbols and tools to help you personally connect with your own higher guidance. These tools will enhance your spiritual journey and empower you to delve deeper into your personal connection with divine energy. He will supply a written version of the exercise and an online link for participants to continue practicing at their convenience.
Using some of the techniques just practiced, together we will go through an exercise of the imagination, David learned from author Robert Anton Wilson. This practice is designed to provide a fun expansion of our point of view. This workshop is light on the lecture and jam packed with your active practice.
4:00 pm
Wonders of the iChing
Megan Jacobson
Discover the iChing, an ancient Chinese divination system, through a combination of interactive activities, discussions, and hands-on practice. Explorers will be reminded of 6 wonderful truths and will leave knowing how to cast a hexagram.
Megan has been reading since 2008. Her favorite tools of exploration are the iChing, tarot, runes, and tea leaves/coffee stains. At a Buddhist restaurant in China in 2007, whilst chewing tofu and wondering what vegetable this or that was, Megan's curiosity got the best of her and she turned around to investigate what sounded like the incessant counting of chopsticks behind her – she discovered the iChing.
5:00 pm
Your Sound Bath Experience
Janette Melvin
https://www.thelovingaether.com
Discover the power of Sound Healing and Sound Baths in our transformative workshop! Whether you're simply curious or actively seeking alternative healing methods, this session is designed for individuals like you.
Throughout our time together, we will explore
and address the following essential questions:
What is the essence of a Sound Bath?
How can Sound Healing positively impact your well-being?
What are the underlying mechanisms that make Sound Healing effective?
Why should you consider incorporating Sound Healing/Sound Baths into your current lifestyle?
A Sound Bath is not just about relaxation; it holds the potential to profoundly heal both the mind and body. In the first part of the workshop, we will delve deeply into these aspects, providing comprehensive insights. Additionally, Janette will offer a demonstration where you can experience a guided meditation accompanied by the enchanting sounds of her Alchemy Crystal Singing Bowls. Prepare to embark on a remarkable sound journey that will leave you inspired. Join us as we explore the captivating world of Sound Healing!
Janette's story: My name is Janette Melvin and I am a certified Sound Healer and Reiki Practitioner. I started my journey as a person who always made life hard for myself. There was a point where I wasn't mentally and emotionally well with my body starting to follow. Then I had a big moment of realization and clarity after hitting my ""bottom of the barrel"". A realization that sent me on a path of healing and discovery. Diving into ""you can heal your life"" books, courses, talks, tools and groups I gradually turned all that around. Letting go of the negative talk and finally finding the love that was always inside me. This ignited a call to service, really wanting to help other people do something similar as I did.
I was guided to a Sound Healing course that pointed me in a direction to use sound, frequency and vibration within my service, and my business The Loving Aether was born. I am growing and discovering new things every day, but there is one thing that is staying constant, my passion to be of service to others. Sending much love to you all!
Sunday Schedule